Available in two sizes, the new Hot Box® PEZ (Polyethylene EZ) drop-over features visual and structural enhancements with our dependable quality and performance. The structurally enhanced High Density Polyethylene (HDPE) construction streamlines manufacturing time which enables stock items to generally ship within 5 business days of order from our facility in Rocky Mount, North Carolina. Also, as a result of the structural enhancements, the enclosure has more space inside and outside of the product.
The PEZ drop-over is wrapped in a visually enhanced swirl design, disguising the box in its environment. The design is the first in the industry for above-ground enclosures. The product also features molded EPS insulation which is thicker, smoother and provides an improved R-Value over the previous version. In addition, the drain port is larger, allowing for faster drainage.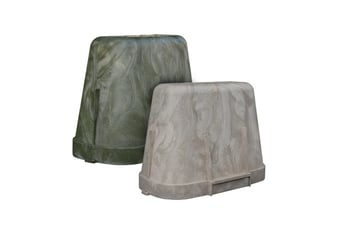 Overall, the design simplifies installation, and the UV and corrosion resistance, as well as the anti-chipping construction, allows the box to maintain its structural integrity. In addition to these improvements, Hubbell now offers the PEZ product at a competitive price and with special discounts for pallet quantities.
The Hot Box PEZ drop-over protects components from freezing and provides increased security. Certified as ASSE 1060, the enclosure can be installed in a matter of minutes. The Hot Box brand has been trusted since 1986 and continues to be requested. Hot Box enclosures are built to maximize efficiency of your ASSE 1060 installation and maintenance.
All Hubbell enclosures for above or below ground come backed with cutting-edge engineering expertise along with a full commitment to quality designs yielding performance and reliability.