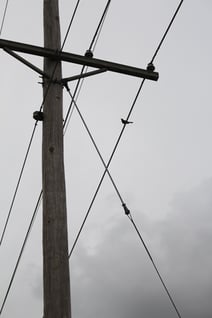 Fiberglass Guy Strains may be installed anywhere along the guy wire to help protect against stray current that may be on the guy caused by lightning strikes or other sources. These fiberglass units serve as a replacement for porcelain insulators or johnny balls, and they extend the insulation length. They offer numerous advantages, including:
variable lengths
easy terminations
resistance to fracture caused by brittleness
For fiberglass guy strains, you need to look no further. Our ultimate strengths of 16,000, 21,000, 30,000 and 36,000 pounds give you dependable security. Plus, CHANCE guy strains are made with a veiled pigmented fiberglass rod which provides ultimate protection from chipping and ultraviolet damage. And for even more protection, our optional silicone coated rod is ideal for corrosive environments.
We go the extra step with our end fittings, too. Our many end fitting options are crimped to the rod for improved consistency and performance, as opposed to the variance of chemical bonding. We apply a silicone sealant to the junction of fiberglass rod and metal end casting to help protect against moisture ingress. Then, we pull test every crimp to ensure consistent, predictable strength.
Our guy strains won't warp, split or shrink. Join utilities who look to CHANCE for guy strains that work. Time after time. Line after line.