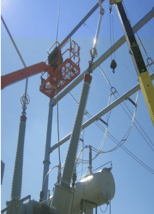 The PCORE® SET-Terminal is designed for use with field dielectric test equipment for more accurate, faster, and safer field power factor measurement of apparatus insulation at a substantial savings.
PCORE Electric launched the SET-Terminal in 2011 as an addition to their test terminal line. The SET-Terminal provided improvements from the traditional porcelain test terminal that has been used by utilities since the 1950's.
Benefits of the SET-Terminal include:
A faster testing process.
Safer testing for test technicians.
Less expensive testing because of less labor hours and equipment down time.
Specify the PCORE SET-Terminal to Speed Up Testing
The SET-Terminal eliminates the need to remove the overhead cables and/or bus work when performing diagnostic testing on bushings and equipment. Once de-energized, simply loosen the captive bolts on the side blades and swing the blades in the downward / open position. Testing is performed the exact same way if the test terminal was not installed.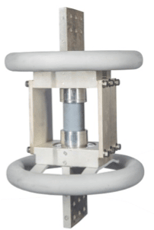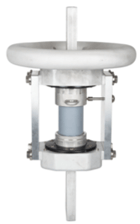 The SET-Terminal utilizes a fiberglass rod as the center insulator with a polymer sheath, as versus porcelain, extruded over it. The top and bottom terminals of the SET-Terminal are crimped onto this rod. The SET-Terminal provides a stronger mechanical strength than the traditional porcelain test terminal in which the cantilever strength is 2500 ft-lbs. The SET-Terminal also provides lighter weight designs and is made out of aluminum for applications up through 3000A. 4000A and 5000A designs are made out of copper and silver plated. At 345kV (1) corona ring is added to the SET-Terminal and at 500kV (2) corona rings are added to the test terminal. New in 2019, a guard ring is also available.
The PCORE SET-Terminal is manufactured for use with all types of bushings on circuit breakers, transformers, and similar equipment through 765kV.
Click here for a selection guide of the various designs available. Interested in additional information?Contact us today!