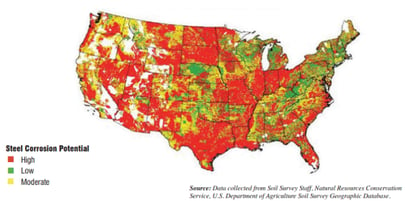 Electric Utility Engineers who design and maintain transmission lines face many challenges including weak, soft soils that can't bear much weight and aggressive soil that corrodes metal. Whether you are facing Virginia's Coastal Plain or western Colorado's Mancos Shale, CHANCE® offers protection to ensure the helical foundations and anchors beneath transmission towers will function properly and withstand the test of time.
Installing Transmission Towers in Soft Soils and Corrosive Environments
Hubbell engineers were called to find a solution when an inspection of a 230kV transmission line south of Brunswick, GA (on the Atlantic coast) uncovered some of the original foundations were missing at the base of the structures. The sensitive wetland location called for minimal matting, limiting vehicle size and weight. Existing guy wires to the structures constrained overhead work clearance. The importance of this line required the restoration to be done while the line remained energized. And, of course, the new foundations need to withstand the very corrosive environment, so they wouldn't be faced with another replacement in the near future.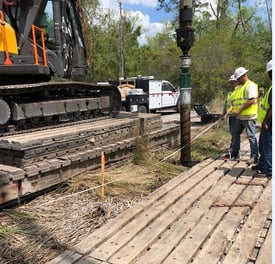 Armed with information of this project including structure and soil details, Hubbell engineers went to work on designing a helical foundation system that, along with supporting the structures, would also address the installation and longevity challenges. To resist the corrosion of the brackish tidal flow, the steel helical foundation sections were designed with thicker sections for corrosion allowance and treated with a special, heavy-duty galvanizing combined with an overcoat of coal tar epoxy. A report on water main breakage includes this map created with data collected by the U.S. Department of Agriculture showing the steel corrosion potential in the United States.
If you need a firm foundation solution in a corrosive or soft soil environment, contact us to find out if tar epoxy-coated helical piles will work for you.