Hard Plastic vs. Rubber Cover-Up Equipment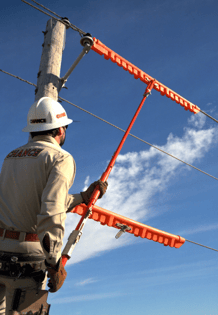 Deciding which cover-up equipment is best for the job depends on several factors, including the system voltage, types of energized equipment, and work methods (rubber gloving vs. hotsticking).
OSHA requires the use of rubber gloves and sleeves and/or insulating cover-up to enable a lineworker to encroach into the minimum approach distance (MAD) of energized equipment. This is outlined in OSHA 1910.269 paragraphs (I)(3)(iii)(A) and (B). OSHA 1910.137 requires that the insulating temporary protective cover-up is tested and manufactured to the ASTM standards D1048, D1049, D1050, and F712. It is also important to remember that cover-up is intended for incidental brush contact only. It should not be used as primary protection. CHANCE recommends that cover-up be visually inspected before every use. Also, it is intended for temporary use only (72 hours maximum). Please follow your company's work practices and procedures when using insulating cover-up.
Rubber cover-up is often more easily installed using the rubber glove method. Flexible rubber covers such as linehose and blankets are intended to cover lines and other energized equipment during hot work. Again, the purpose is to protect against incidental brush contact. The flexibility of these products allows them to be installed with properly rated rubber gloves, and also affords the ability to cover a variety of equipment. Linehose is spread open by gloved hands and then easily slid along the conductor on which it is being installed. This process can be done with hotsticks but is difficult and requires special tools. Rubber blankets can be installed by gloved hands and held in place with blanket clamps. Again, the installation process can be done with hotsticks, but this is usually more difficult. Rubber blankets make a great cover-up for irregularly shaped energized equipment for which there is no specifically designed cover. Rubber covers are limited to a maximum use voltage of 36kV (as stated in the ASTM standards).
Hard plastic cover-up is often more easily installed using the hotstick method. Hard plastic covers, such as crossarm, deadend, insulator, and conductor covers, are intended to cover lines and other energized equipment during hot work. Most CHANCE plastic covers are offered with an optional grip-all adapter or an insulated handle for installation using a hotstick. The grip-all adapter is bolted or welded to the cover-up, and is inserted into the end of the grip-all clampstick for installation. Some plastic covers have no grip-all adapter, and some have rope handles; both types are designed to be installed using rubber gloves. The hard-plastic covers tend to be lighter weight than similar rubber covers and can be rated to higher voltages. Energized equipment up to 72.5kV can be covered using appropriate plastic covers.
Cover-Up Equipment Care
All cover-up equipment should be visually inspected before use for defects, such as cuts, scrapes, abrasions, cracks, etc. If a cover-up fails visual inspection, it should be removed from service and discarded or sent for further visual inspection and electrical testing. While all cover-up should be visually inspected before each use, rubber blankets are currently the only cover-up that requires electrical retesting (every 12 months) per ASTM F479. For additional cover-up equipment care information, please download our brochure or read our blog 5 Steps Toward Keeping Cover-Up Like New.
Proper selection and care for your cover-up equipment is critical to keeping you safe and providing you with the most appropriate equipment for your needs. Please do not hesitate to contact us at CHANCE Tools if we can provide you with any information to help you select the best equipment for your needs, and most importantly, to help you keep safe!