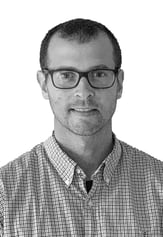 Meet Kevin Mabie, Northeast Territory Manager, as he discusses his communications industry outlook for the next five years - and how increased access to fiber bandwidth will help drive future growth to rural areas.
GETTING TO KNOW KEVIN MABIE
I was born and raised in a small town called Springfield Center in Upstate, NY. For baseball fans, it's located ten miles north of The Baseball Hall of Fame in Cooperstown, NY. I'm a people person and have always had a desire to travel in my career. I graduated from Utica College of Syracuse University in 2007 with a Bachelor of Science in Business Management and have been in the communications industry for ten years in various OSP sales positions. I reside in Upstate, NY with my wife, Brandi, and two children. I enjoy outdoor activities, snowmobiling, fishing, and most of all, spending time with my family.
Upon completion of college, I was offered a position as an Account Manager for a manufacturer and distributor of fiber optic custom cable assemblies and test equipment along with various tools and accessories for both ISP and OSP Communications products. It was great hands-on experience, and I enjoyed being with customers learning the ins and outs of Communications during field trials.
HOW DO YOU SEE THE COMMUNICATIONS INDUSTRY CHANGING OVER THE NEXT FIVE YEARS?
The communications Industry in rural America is driven by government funding to rural telephone and electrical utility companies to help strengthen their infrastructure and enable those in underserved rural areas the ability to receive the same fiber bandwidth traditionally only found in metropolitan areas. This offers many advantages like high speed internet and the ability to utilize streaming video options for school systems, municipalities, small business owners, and residential customers. Most importantly, these are fed with a fiber backbone which is needed to continue building wireless cell sites, reach last mile areas with wireless equipment, and drive future growth to remote areas. Also, I believe we will see a lot more Electrical Utility Companies partnering with Telephone Companies. This will help eliminate the challenging Pole Attachment Permitting issues for running FTTH and allow electric companies the ability to remotely monitor their systems and drastically reduce truck roll costs. Increased demand for smart cities, smart homes, Over The Top Video, and autonomous vehicles, just to name a few, will continue driving the communications industry for years to come!
WHAT DO YOU LIKE ABOUT WORKING AT HUBBELL?
I enjoy working for an industry leader in the Communications product offering portfolio, quality, engineering support, and most importantly, the people! If it's not something that we currently offer, HPS is vertically integrated and willing to develop a suitable product solution.
Originally published in the Broadband Connection communications newsletter in January 2020, for more content like this subscribe to the Broadband Connection or to blog post notification emails.