Rubber insulating gloves are a critical piece of Personal Protective Equipment (PPE) when working on energized power lines. They should be visually inspected every day before use and properly stored when not in use. Here are 6 tips for inspection of rubber insulating gloves.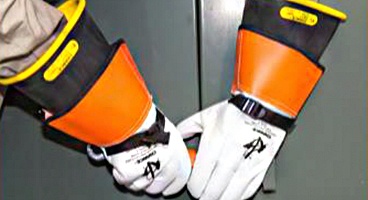 Be sure to follow all applicable laws, regulations, and your company's work practices and procedures for proper glove use, testing and inspection.
Rubber insulating gloves should be visually inspected inside and out every day before use. An air inflation test should be included as part of the daily inspection. Examples of issues to look for during an inspection can be seen on catalog pages 2654 and 2655 and in the ASTM F1236 standard. If any defects or issues are found, or if any other reason exists to question the integrity of the glove, it should be immediately removed from service.
Once placed in service, rubber insulating gloves need to be electrically re-tested a minimum of every six months per ASTM F496.
Always verify your gloves are rated for at least the voltage to be worked. Classes and ratings can be found on catalog page 2656 and in the ASTM D120 standard.
Always properly store your rubber insulating gloves. Proper storage includes removing the leather protectors before storing the rubber gloves in a glove bag. The gloves should be stored in a cool, dry area away from sunlight and ozone, which can damage the rubber gloves.
It is important to ensure the rubber gloves are not stressed while stored. Making sure they maintain their shape will prevent damage to the natural rubber.