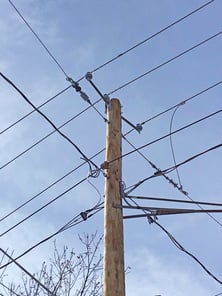 Distribution lines can face harsh conditions. If standard products aren't doing the job and you need more protection for your standoff brackets and guy strains, look no further. Here are four reasons to switch to silicone-coated fiberglass construction products:
Harmful UV rays – Silicone is UV resistant. For a piece of hardware on top of a distribution pole, having product with extra protection against the sun's rays is crucial.


Harsh environments – Silicone is extremely versatile – and tough. Silicone outperforms its standard paint-coated counterparts in every tough condition: snow, deserts, coastal areas, and corrosive environments. Silicone-coated products even reduce the risk of pole fires due to tracking.


Hydrophobicity - Silicone rubber compounds have a high degree of hydrophobicity, which means that water will run off (shed) much better.


Increase service life and improve reliability – This is really the sum of all the other parts – a product that resists everything from the rays of the noon sun at a high elevation, to a torrential downpour on the coast. Silicone coating results in longer-lasting products that do not warp, split, or shrink.
CHANCE® has extended its Fiberglass Construction Product line to include a silicone coated rod option, available for the complete guy strain offering (16,000, 21,000, 30,000 and 36,000lb) and for conductor support and equipment mounting standoff brackets with 1.5" and 2" rods. All products are shipped ready to install.
Trust CHANCE for silicone-coated fiberglass products that you can rely on to save you time and money.