While heat is generally the enemy of power system transmission lines, strong winter weather brings a new set of challenges for utilities.
Ice and snow can quickly cause widespread outages from damaged utility poles and power lines. A ¼ inch of ice accumulation on power lines can add up to 250 pounds of weight, and accumulations of up to 1 inch of ice can cause serious damage to trees and power lines. In addition, the wintery conditions can also greatly affect critical components that keep utility lines operating.
"Each type of emergency has its' own nuances to address. However, hurricanes and ice storms present the most challenges. Hurricanes affect wider areas, are slower moving and impact a greater number of customers. During ice storms, the ice may linger well after the initial storm causing travel and work to remain hazardous for a long period of time," shared Matt Montie, Hubbell Power Systems Distribution Manager.
So how are substation and transmission components affected by strong winter storms?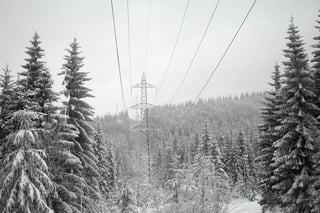 It is typically cost prohibitive in warmer areas of the country to plan a power system to handle a snow storm of a large magnitude. Generally, transmission lines in the southern states are not built to withstand big ice loading from a winter cyclone storm.

For 2018 Winter Storm Grayson, it looks like snow and ice are expected all along the east coast of the United States.

If trees get heavily loaded with ice, no amount of planning will be able to withstand an ice laden tree falling across a transmission line. Winter Storm Grayson is being classified as essentially a winter hurricane with gale force winds, so caution should be taken.
Power switches can struggle in ice conditions. As ice collects they can become frozen closed or frozen open. Power switches do have some ice breaking ability, but there is a limit. They can quickly be rendered inoperable with a heavy ice coating. This reduces the ability of a power company to make power flow changes which can compensate for sudden changes in load or generation.
The effect of the ice and snow storms on insulators is dependent on how the event happens. In the case of ice buildup due to moisture and then quick freezing, the impact will result from the ice sticking and allowing mass to congregate on the insulator and the line. In this situation, the failure will most likely occur with the hardware or the line itself as opposed to the insulator. The only way to monitor is through visual inspections.
For power system operators monitoring these conditions, it is really like any other weather event. They have to closely monitor the frequency or speed of the power system. The speed must be tightly controlled with the max and min both at 60 Hz.
The cold /wind may cause some line failures, which will decrease system loading. This will potentially leave too much generation on the system and the frequency will increase above 60 Hz.
Likewise, if a generator is removed from service (i.e., the transmission line going from the generator step up substation) and is compromised by ice loading, the system frequency can trend below 60 Hz.
Operators at a power system can adjust the generator output to mitigate the load loss which will keep the frequency close to normal unless events start cascading quickly.