As a power utility company, it is critical to understand the benefits and challenges when it comes to substation communications IP migration. There can be major benefits when migrating from TDM to packet networks.
Packet networks can provide standardization, scalability, extensibility, network efficiency and long term support. The two key challenges that come with the system are dependability and security. Utilities want to ensure equipment hardening, reliability and availability with their migration. They also want to meet the regulatory standard (NERC-CIP), comply with their own security policy and adhere to industry best practices.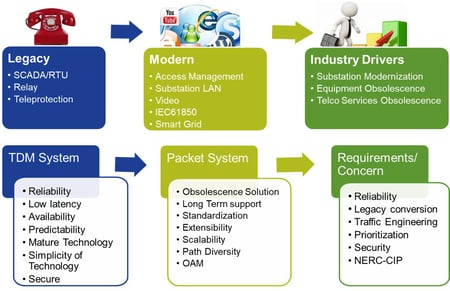 Although that is a lot to consider, it's not all. There is legacy conversion with current equipment, technology options, network characteristics and leased packet services. How power utility can achieve the best of both worlds by migrating to packet with minimal disturbance to the current system?
Comparing Technology Options:

Carrier Ethernet (CE)

Transport native Ethernet services
Traffic Engineering
Sub 50ms convergence time
Simpler in function
Mature Technology
SONET/SDH like architecture
Faster layer 2 forwarding capabilities
No dynamic path routing-requires path configuration
Multi-Protocol Label Switching (IP/MPLS)

Transport multiple traffic types
Traffic Engineering
Automatic network routing
Non-dependent on network management system
Flexible architecture with mesh topology
Sub 100ms convergence time
Security gap
More complex
Multi-Protocol Label Switching (MPLS-TP)Requires the use of network management

Traffic Engineering
Uses same architectural principles like SONET/SDH
Simpler in function
Static route provisioning like CE
Added OAM
Enhanced Security
Not as mature as CE or IP/MPLS
At the end of the day, utilities want a migration that helps them achieve the best of both worlds. They need a successful migration of all legacy mission-critical applications to a packet network with 99.999% reliability. They have to have the ability to modernize their substation communications with newer applications designed to operate efficiently over packet, and they want future proofing of their substation communications network.
Download Catalog: T1/SONET Multiplexer
http://www.rflelect.com/lp/exmux-4-wire-obsolescence/