Whose part is that anyway? No one likes having to mix and match parts to complete a job. Relying on one trusted source for all components of an underground installation makes your life easier, saves time and money during purchasing, plus potentially reduces ongoing maintenance when everything works together properly.
When it comes to underground applications, Hubbell Utility Solutions (HUS) not only offers the enclosure, but we also provide everything that goes inside. We manufacture a wide variety of construction and switching products, tools, insulators, arresters, pole line hardware, cable accessories, test equipment, transformer bushings, along with enclosures and equipment pads.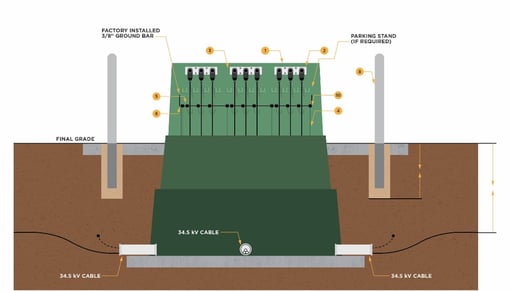 Need a three-phase enclosure for a 35kV renewable project? How about 600A or 900A junctions for the enclosure? Hubbell has them all.

Need 35kV T-body kits and arresters for your collection system cables? Yep, we got 'em.

Need connectors for grounding and bonding the enclosure? Together, Hubbell and Burndy have those too.
Here's some thoughts on the kind of equipment and capabilities that can be packaged for your complete underground installation.
Cable Accessories
Hubbell underground separable connectors are designed and tested to meet or exceed all applicable requirements of IEEE and other industry standards. Fully shielded, insulated, and submersible up to six feet in water, they are interchangeable with all standard underground products. We offer a full line of 15kV, 25kV, and 35kV class underground separable connectors for 200A, 600A, and 900A applications.
Our 35kV deadbreak T-body kits offer an easy, reliable method for terminating and splicing main feeder circuits. Fully shielded with molded rubber connectors, they can be installed on conductors ranging from #2AWG to 1500kcmil. Load break junctions rated 200kV BIL are available in two, three or four positions. Mount them with stainless steel brackets or U-straps.
Our 200A elbow arresters protect underground equipment, extending service life, by limiting overvoltages. Reducing tap plugs add 200A loadbreak interface to existing 600A deadbreak T-bodies. They provide an interface for testing, grounding, or adding arrester protection. Bushing extenders provide a 600A 35kV interface for use in crowded cabinets. Insulating caps provide temporary or permanent cover for energized operating interfaces.
Connectors and Tools
Our BURNDY brand provides high quality HygroundÒ compression and mechanical grounding connectors for any application, including underground. The Patriot series crimping tools include T3 track-trace-transmit technology to provide consistent quality connections.
Enclosures
Wrap your entire project together with Hubbell Enclosures. We can meet all your project needs with turnkey solutions. Choose from collector system products such as sectionalizing cabinets and transformer foundations to vaults, even hand holes and cable troughs.
Underground installations require planning and product integration. Working with a single source offers you complete solutions that make the process easier and more productive. To find out more, please reach out to your Hubbell sales representative.