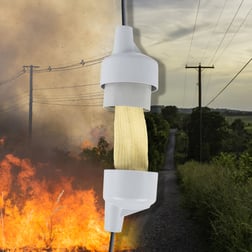 Wildfires continue to devastate portions of the western United States, Australia and other regions across the world. These disasters can be attributed to a variety of factors. Utility companies, in turn, are working to minimize the fire risk posed by overhead lines.
Hubbell has developed an arrester solution to help utilities alleviate some of these concerns. The Hubbell Fire Protection Disconnector (FPD) is designed to install with any non-gapped MOV distribution surge arrester. When installed, the Hubbell FPD will provide the user with a certified Cal Fire exempt arrester solution.
Conventional disconnectors only operate in the event of arrester short-circuit. When installed, the Hubbell FPD monitors the leakage current flowing through the arrester. The FPD is specifically tuned to operate precisely when the arrester begins to degrade and allow specific levels of leakage current to flow through the device. This level of sensitivity prevents the arresters from being exposed to system fault current. Once operated, a bright yellow sleeve is displayed. This provides an improved visual aid to field personnel, alerting them that the arrester and associated FPD need to be replaced.
The Hubbell Fire Protection Disconnector has been certified according to the provisions in the California Power Line Fire Prevention Field Guide. This guide addresses the testing procedure and requirements for obtaining exemption status for electrical equipment. Test conditions include wind speed in excess of 10 MPH, temperature between 70-85° F, and a dry fuel bed at the base of a 22.5' tall wooden pole. The test is passed if the sample exhibits no sparks or projectiles and the fuel bed does not catch fire. The Hubbell FPD has successfully passed the requirements from Cal Fire and was additionally granted exemption status.
Design benefits for the FPD include an IEEE 1656 compliant wildlife guard, insulated #6 AWG lead wires, and the flexibility to install the product for new or retrofit installations. The FPD is additionally designed to install in series with any non-gapped MOV distribution surge arrester. This capability provides a utility's operations and procurement teams with a level of flexibility not offered by any other product available. This video demonstrates the difference between a conventional ground lead disconnector versus the Hubbell Fire Protection Disconnector as well as the FPD design benefits.
The destruction resulting from a wildfire can be devastating to both commercial and residential areas. Hubbell Utility Solutions can help protect your distribution assets with the Fire Protection Disconnector. For more information, visit our website or contact your Hubbell representative.