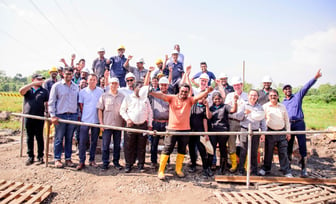 At Hubbell Power Systems, Inc. (HPS), we are committed to providing our customers with outstanding service, whether in our hometowns or halfway across the world. In 2019, prior to COVID-19, two engineers from HPS spent two weeks giving presentations and training crews in Sri Lanka on the application and installation of CHANCE® helical piles and anchors manufactured by HPS. Here is their story:
Shawn Downey, Senior Design Engineer, and Gary Seider, Civil Engineering Manager, spent nearly 30 hours traveling from Centralia, Missouri to Colombo, Sri Lanka. Sri Lanka, a 25,000-square-mile island south of India, is a developing country that is home to over 21 million people. As the Territory Manager for Central Asia, I accompanied Shawn and Gary.
Madusanka Fernando, the Director of St. Theresa Industries (PVT) Ltd. hosted the team from HPS. Over 100 engineers and management personnel with the Ceylon Electricity Board (CEB) attended a presentation on the application and design of helical piles and anchors for the utility and civil markets.
The next step was letting the attendees use the knowledge they acquired in the classroom and use it out in the field. Bringing the classroom outdoors, the Hubbell team working with crews from STI facilitated an installation and load test demonstration of helical piles. The test site was a swamp located between two transmission tower structures, of which the concrete foundations took a year to construct. With Shawn providing expert training and guidance to the crews, the team from STI Holdings was able to install and test five helical piles in three days under very demanding conditions.

CHANCE helical piles provided the team with many advantages, making this test installation a resounding success, including:
Fast installation
Immediate loading – no cure time
No dewatering required in the swampy ground
Helical piles also provide the benefits of low mobilization costs and ability to install with common construction equipment which can be important factors, especially in a developing country like Sri Lanka. This was likely the first time helical piles have ever been installed and tested in Sri Lanka. Thanks to the team from HPS and the forward-thinking team at STI Holdings, a cost-effective helical pile foundation system is now a reality for the CEB and others in Sri Lanka.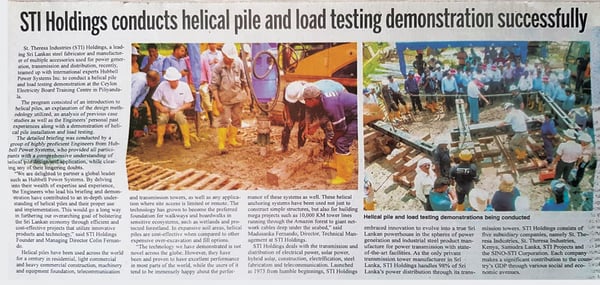 Comment below or contact your Hubbell Territory Manager to inquire about training opportunities.