When it comes to storm response, Hubbell Power Systems (HPS) knows how to bring the H.E.A.T. (Hubbell Emergency Action Team). H.E.A.T. members have over 30 combined years of storm experience. The team responded swiftly to 2017 Hurricanes Harvey and Irma, and expect to do the same for all upcoming storms. In a time of a natural disaster, customers can be assured they are in the right hands with HPS, due to these key storm response characteristics.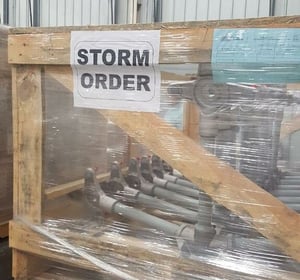 Preparedness. Hubbell Power Systems ensures that their customers are able to response to storms by providing 24-hour live coverage. All storms are tracked and monitored, and customers receive email reminders of important storm resources, such as after-hours contact names and phone numbers.
Inventory Inquiry. On the brink of a storm, all inventory is checked and accounted for and manufacturing facilities are notified of the potential need for their products. Customers can receive a list of available stock quantities on common emergency items, such as hardware, splices, connectors and more. Open storm orders are kept up-to-date with daily production reports in order to manage any backlogs, and in the case of a backorder, alternative parts are offered.
Availability. Customers have 24/7 access to Territory Managers and Customer Service Account Specialists, with H.E.A.T. personnel supporting them behind the scenes. Customer Service works directly with customers, production and shipping to process orders and coordinate shipments.
Priority Shipments. In response to a large storm, available materials are divided among affected customers. Storm orders are of the highest importance, and their processing is prioritized above non-emergency orders to ensure the swiftest shipment possible. To guarantee timely arrival of shipments, route closures are monitored and potential disruptions are noted. Also, contact names, numbers and delivery schedules are provided to the customers. In 2017, 97.5% of storm orders were fulfilled and shipped within 24 hours with 99.98% accuracy.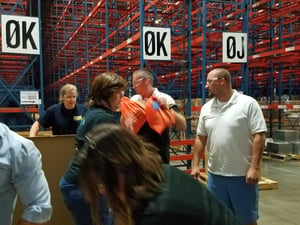 Consistency. Emergency response orders are not charged premium pricing; all customers pay only their current standard price for materials at the time the storm hits. Expedite fees and direct ship fees are also not charged on storm orders; only freight charges are billed, and customers choose their desired shipment method and transit time.
Storm Soldier support. HPS appreciates and supports the dedicated men and women who respond to a storm. In 2017, HPS donated over 1,000 lineman kits to help those helping others, providing items such as bottled water, granola bars and clean, dry shirts.