Save time and money spent lowering the oil level in the transformer, when replacing higher current bushings, by specifying the PCORE® Electric Company, Inc. Quick-Link bushing.
In 1999, PCORE launched the first Quick-Link bushings that allowed electric utilities to save costs by significantly reducing transformer outage time. The design was further expanded to 115kV and 138kV in 2017. PCORE's Paper-Resin-Capacitor (PRC) and Paper-Oil-Capacitor (POC) Quick-Link bushings have the following benefits:
PRC and POC Quick-Link bushings have the convenience of a draw-lead bushing with the electrical current carrying capability of a bottom-connected bushing (1200 amps and above). This allows Quick-Link bushings to be installed and removed from power transformers without lowering the oil level in the transformer.
PCORE Quick-Link Bushings have a proven multiple connector that transfers the electrical current from the bottom terminal to the bushing conductor; there are no internal draw-rod connections that can loosen or overheat while the bushing is energized.
The internal Quick-Link rod which acts as the draw-lead mechanism is much lighter than typical draw-lead cables or draw-rods, making installation and removal more convenient.
The photos below show installation at the transformer factory and then the installation of the bushing in the field. Typically a bushing of this current rating would require the utility to have to go in the transformer; however, this design provides easier installation which saves them time and money.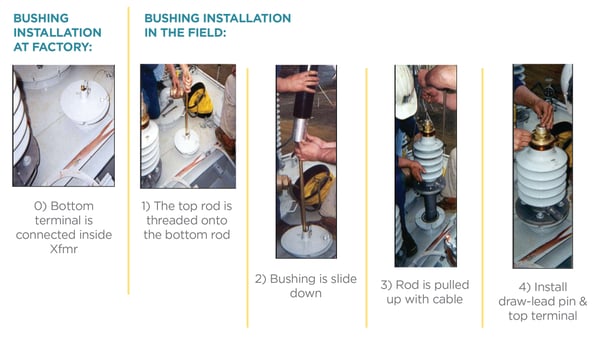 For additional information, please view our selection guide for the various designs available.