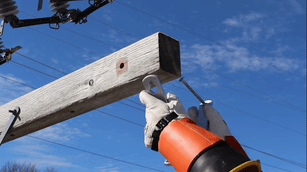 Responding to concerns that conventional brackets were difficult to install, Hubbell Power Systems, Inc. engineers designed a crossarm bracket that saves time, improves safety, and offers a better fit. The Hubbell Easy-On Crossarm Mounting Brackets are used for mounting cutouts, arresters, cable terminators, or cutout-arrester combinations to a distribution pole crossarm.
Save Time – Brackets are shipped from the factory fully assembled and ready to install out of the box. Captive bolts are attached to the bracket so it only needs to be slipped onto the crossarm and tightened. With a direct correlation to NEMA styles, it is easy to ensure you have the right part and the right size.


Improve Safety – With the conventional design, a lineman has to contend with removing and reassembling small bolts, which can be cumbersome while wearing rubber gloves. Since all hardware comes preinstalled and does not need to be removed for installation, a lineman can easily install the Easy-on Bracket without removing rubber gloves or other protective equipment.


Better fit – the bottom adjustment slot allows for an improved fit to the crossarm. Nuts do not need to be assembled or removed to install this bracket. The bolt can be adjusted to the size of the crossarm and tightened using the pre-installed nut.
To see the Easy-On Brackets in action, watch this video. More detailed information about the brackets is available in this flyer.