As the CHANCE® Drivecast™ screw displacement pile is rotated into the ground, it compresses the soil laterally, creating a void which is immediately filled with grout maintained in the reservoir. The schedule 80 centralized shaft replaces the rebar cage as column reinforcement.
Grout is released from a gravity-fed reservoir located at the surface prior to the advancement of the lead section into the soil and is continued until the minimum column length is achieved.
Grout is typically a 4500 psi mix, either neat or with a sand aggregate filler. It is placed into the reservoir immediately prior to the advancement of the lead section into the soil. The volume of grout contained in the reservoir is always maintained at a level to maintain positive hydrostatic pressure on the grout column. Grout placement continues until the Drivecast pile installation is completed.
Installation Process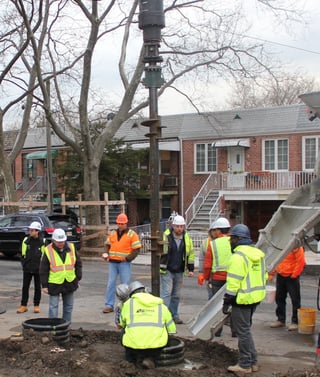 CHANCE Drivecast

screw displacement piles are provided in easy to handle lengths up to 20'-0 long
Installed with a track-hoe excavator - typically less than 30,000 lbs machine
Torque measured during installation to prevent damage to pile
Pile advances and displaces soil at the same time
Rate of penetration is approximately 3" per revolution
Rate of revolution: 5-15 RPM
Installation Equipment
A rotary type, hydraulic power driven torque motor should be utilized, along with a Kelly bar adapter and drive tool. The reservoir allows immediate knowledge of grout consumed if used as a graduated column.