Standoff brackets, sometimes called attachment or extension arms, are used to support conductors, equipment like cutouts and arresters, or communication lines on poles. Communication standoffs are typically utilized when the poles are busy or over utilized to maintain cable separation requirements by keeping communication cables away from other lines, mounts, brackets, etc.
Instead of cable mounting hardware being directly attached to utility poles, a standoff enables the cable to be mounted at a distance from the pole, allowing an engineer to reduce make-ready costs since separation requirements can still be met by horizontal spacing. Before including standoffs in your design, check with the pole owner to ensure that standoffs are allowed. Some utilities restrict their use since they may present an obstacle to power linemen climbing the pole.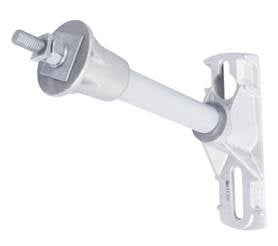 Our fiberglass standoffs are made from a high-strength, non-conductive fiberglass rod that is coated with a special ultraviolet-resistant polyurethane gray paint or silicone coating. The end fittings and base castings are made from aluminum alloy or hot-dip-galvanized ductile iron, depending on the application. The combination of these materials makes for a strong and light-weight attachment for ease of installation and reduced pole loading.
For communications networks, the aluminum end fitting on the communication standoffs have a 5/8" threaded stud that easily accommodates standard cable suspension hardware including 3-bolt clamps for messenger/strand or a variety of ADSS suspension clamps.
Nuts and washers are included so they are ready to install out of the box. The aluminum base on the communication standoffs features slotted mounting holes allowing bolt spacing from 6-8" with the top hole keyholed for ease of installation. Grooves are cast into the base for banding installations.
HPS offers both straight and angled (15° up) communication standoffs in lengths from 12 to 36 inches with custom lengths available. For extreme environments, like deserts and coastal regions, where corrosion or intense UV exposure is a consideration, the silicone-coated rod option provides increased protection.