Utility brackets for distribution lines are primarily used in two ways. One is for conductor support and the second is to mount equipment, like cutouts and arresters. Because of their constant outdoor exposure, they face challenging conditions including bright sun with blistering UV rays, fires, fierce storms, and wildlife damage. To mitigate some of these concerns, some traditionally-wood distribution products, such as brackets, are now being offered in fiberglass. Here are four advantages of choosing fiberglass brackets: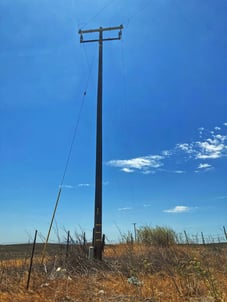 Consistent strength –

the life expectancy for a fiberglass bracket is about 50 years. This is up to 50% stronger than similar wood brackets.



Withstands (harsh) environmental conditions

– fiberglass is resistant to UV rays, and insect and bird damage. Unlike wood, fiberglass is resistant to warping, shrinkage and rot. These brackets are foam filled which helps eliminate water and insect penetration. Fiberglass is fire-resistant relative to wood and won't deteriorate over time. Fiberglass is low maintenance and the bracket, including the aluminum mount with galvanized hardware, will ensure many years of reliable service.



Easy to handle and install –

Linemen like fiberglass brackets because they can be lighter and easier to handle compared to similar wood and metal brackets. Sized as a direct replacement for existing wood brackets and available with bonding options, a utility can switch to this durable solution without disruption.


A Universal Replacement

– No matter if you are installing on wood, metal, or steel utility poles, fiberglass is a viable solution. With fiberglass, there is no smelly, sticky preservative treatment as you find on wood brackets.



Hubbell Power Systems is pleased to offer various lengths of fiberglass cutout and arrester brackets to give you an excellent, long-term fiberglass solution. Read more about our product offering or watch a video introducing the product line.