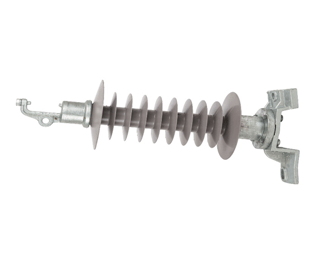 The Insulators Business Unit at Hubbell Power Systems, Inc. strives to provide innovative solutions to the changing needs of our customers. In our effort to provide a complete line of products that deliver strength and quality, we are excited to announce the development and launch of our new product, the MITY-Lite® Line Post Insulator. The MITY-Lite joins the already existing 69kV Veri*Lite™ Line Post product line that our customers are familiar with and depend on.
Solves Load Issues Due to Changes in NESC 2017
Manufactured in our Aiken, South Carolina facility, this offering was created at the request of one of our customers as they attempted to solve an issue created by changes in NESC standards released in 2017 which specified the load cases. This clarification limited the allowed percentages of permitted loads to 50% of the specified cantilever load for a transmission or distribution line post insulator. Previously, rule 260B2 allowed for 80% permitted stress when compared to the specified or ultimate cantilever load. This change required our customers to find stronger line post insulator solutions that would be able to fit into a limited amount of space when the need arose for replacement or upgrades with an existing transmission or distribution system.
Our Engineering team started working to develop a solution which met their needs while offering all the same quality benefits our customers have come to expect from our Quadri*Sil designs. New molds were created and paired with updated equipment allowing us the ability to create the shortest 2.5" diameter post in our history.
Quadri*Sil Sealing System
Our industry leading four-point sealing system protects the crucial triple point where the ECR rod, proprietary silicone polymer blend and the end fitting intertwine and present the most direct route for moisture ingress to penetrate the core. Moisture ingress can lead to brittle fracture failures in the field, so it is paramount that the core be protected from this phenomenon to ensure the continued mechanical strength of our products.
Two Times Stronger Than Standard 69kV Designs
Testing has been completed to ensure the electrical and strength capabilities of this new offering meet the stringent standards Hubbell Power Systems stands for and our customers require. With positive results, we can now offer twice the strength of our current 69kV VLLP offering while using the same amount of space.
For more information about the MITY-Lite, download our sales flyer, watch our In-Depth video below, or contact your Hubbell Power System's representative.