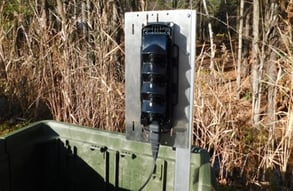 Protect your network and safely secure Multiple Service Terminals (MST) within enclosures. Our new innovative design improves accessibility for simplified diagnosis, saving you time and money.
Hubbell Power Systems has taken over 15 years' experience in swing arm manufacturing and combined it with the feedback provided to us by our valued customers and end users.
The brand new design draws on this combined expertise and research to develop our latest swing arm mechanism packed with new benefits and features:
Aluminum & Stainless-steel construction to prevent corrosion for long life reliability
Telescopic arm pivots to 90%, allowing easy access and reducing installation and maintenance times.
Customizable MST mounting plate is configurable across multiple MST manufactures

Available in three sizes and compatible with a wide range of enclosure models
Accessibility & Time Savings Where It's Needed Most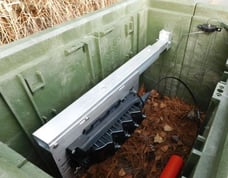 Most enclosures are mounted on a gravel base which means moisture, dirt and debris can easily accumulate and make the environment hostile for the MST. Our swing arm raises the MST from the ground to limit the impact of debris and water. This reduces the chance of fibre interference when new customers are being activated, or when network is being serviced. The new design allows easy accessibility, cutting down the technician's time.
To ensure the reliability and longevity, even in extreme environments, the swing arm went through rigorous trials, including passing ASTM B117 Salt Spray testing.
The environment within enclosures housing MSTs that rely on plug and play connectors can impact their performance. Fibre interfaces that, if obstructed, will increase insertion loss.
Using the swing arm to raise the MST helps create a stable environment and reduces the risk of insertion loss and makes installation and maintenance easier and quicker.
If you'd like more information or a to discuss your specific project, please contact our expert: jcarrozzo@hubbell.com.