The PCORE oil-free PRC® bushing was recently developed to provide an option to customers who are looking to reduce oil-filled equipment in substations. The oil-free solution provides a more environmentally friendly bushing with the same great benefits.
The construction of a PRC bushing consists of a capacitance graded core that is wound around a center conductor which is created using high dielectric paper and conductive layering. The bushing core is then impregnated with an epoxy resin.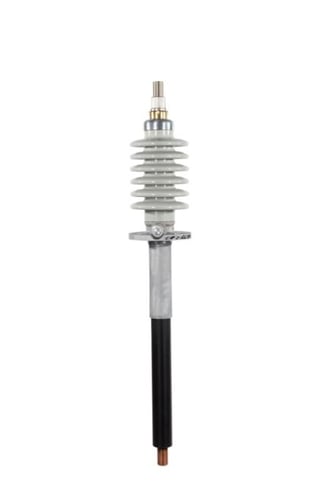 Since the core is completely encapsulated in epoxy resin, lower external insulation is not needed. A porcelain insulator is then added for external insulation above the mounting flange. Top and bottom terminals plus draw-lead components are available for connecting the bushing for use in a power transformer or an oil-filled circuit breaker. PRC bushings are available from 15kV to 69kV per the IEEE standard and up to 72.5kV per the CSA standard.
Benefits of the oil-free PRC bushing include:
Transformer-Breaker Interchangeable (TBI)
High creep porcelain insulator
Porcelain strike distances to meet the ANSI / IEEE electrical requirements up through 10,000 feet above sea level
Can be mounted at any angle without the use of an external oil reservoir
PCORE Quick-Link bushing capability
Includes a SMART Part Numbering System