THE IMPORTANCE OF EQUIPMENT REPOSITIONING
In recent years, the U.S. has been faced with several different types of natural disasters from devastating floods, tornadoes and hurricanes to Super Storm Sandy. These disasters have made us rethink how to ensure the safety and reliability of our infrastructure and facilities.
As a result, in 2008, article 708, Critical Operations Power Systems (COPS) was added to the NFPA 70 National Electrical Code® (NEC) to provide mission critical facilities with a higher level of protection so that in the event of an emergency, these facilities will still function. The NEC mandate applies specifically to vital facilities that, if destroyed or incapacitated, would disrupt national security, the economy, public health and safety. These facilities include hospitals, police and fire stations, emergency call centers and government facilities involved in national security. In some cases the directive is applied to a specific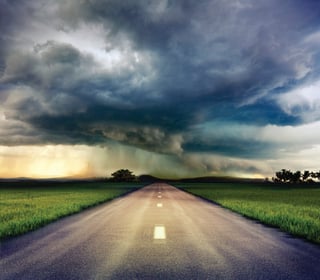 area within a facility which is the designated critical operations area (DCOA). In others, the entire facility will be designated as a critical operations area.
However, implementing some of the protective measures included in the NEC mandate can be very expensive. How can organizations that are not required to comply with it determine which of these measures is most worthwhile?
A reliability assessment will enable facility managers to think beyond getting the power equipment back up and running. It can lead to longer term considerations such as the reliability of the power distribution system and all utilization equipment, including HVAC, pumping and communication systems supported by power equipment. Facility managers must consider the reliability of power and critical equipment relevant to environmental factors, as well as possible external threats and how to function and maintain the appropriate and necessary levels of reliability.
RELOCATING OR REPOSITIONING OF EQUIPMENT
Substation equipment is manufactured to meet standards, such as those developed by NEMA and the American National Standards Institute, and will perform in a wet environment but cannot be submerged. The key is keeping the energized parts separated from the non-energized parts. The substation needs to be protected from floodwaters either by barriers or built high enough to withstand storm surge.
As a rule, higher voltage switches are mounted 10 feet off of the ground, allowing switch operation if the station is still energized. Breakers, transformers and metering inside the switch houses are also susceptible to flood damage. Utilities should consider if it is more cost effective to build substations to withstand severe events or build them so they can be repaired or re-energized quickly. Taking distribution of power from overhead to underground is relevant for areas not prone to storm surge.
While it is costly to build underground infrastructure, it does eliminate the added costs for replacing poles, anchors and hardware. Underground infrastructure is more resilient to high-wind conditions. The trade-off is higher maintenance and repair costs.
In areas where underground location is not a viable solution, more switching points, and in some areas, auto-restoration, can be added. This segments the system into more manageable sections, isolating damage and allowing service to be restored more quickly to smaller areas, rather than waiting until much larger areas are repaired.
ROADMAP RECOMMENDATIONS
It is important that when implementing any recommendations for system hardening or storm preparation that there is a direct correlation between average repair costs due to storms versus the investment of building or relocating new infrastructure.
Create a national standard for equipment and structures in vulnerable areas. Although there are standards that equipment and structures must meet to carry certain voltage levels, there isn't a national rating standard for equipment in areas highly susceptible to storm damage. Products in these areas should be required to meet higher wind and flood standards to minimize outages and destruction to other equipment. Standards should also include the frequency in which products and poles/structures are inspected for damage or corrosion.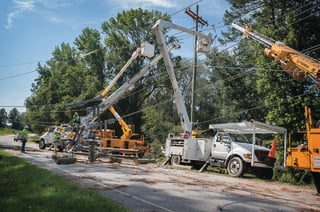 Work with other organizations and government offices to create a unified emergency storm response plan. If access to roads is obstructed, linemen and other emergency responders can't repair the damage to power lines. Therefore, it's necessary to communicate with appropriate departments to ensure that there is a cohesive plan in place for natural disasters, accounting for damaged or fallen communication lines.
Determine the cost effectiveness of implementing changes to infrastructure. In areas that see little or infrequent storm damage, it is not cost effective to implement the same measures as in coastal or other vulnerable areas. The cost to end-users to implement these changes can be vast. A simple comparison of recent storm damage costs versus the investment to upgrade equipment will help determine the areas of focus for repositioning equipment.
Work to harden systems and reposition equipment. After the areas of most vulnerability are determined, consider all viable options to strengthen and reposition the existing equipment to better withstand damaging winds, floods, and ice. Consider elevating equipment above the 10- foot standard in areas susceptible to floods and areas below sea level. Reconfigure equipment on poles to better withstand large gusts of wind. When replacing poles, consider using ones larger in diameter that will have better resistance to wind. In areas with minimal flood damage, consider moving equipment and lines underground to prevent wind and ice damage to lines.
This article was written in conjunction with the National Electrical Manufacturers Assocation (NEMA) and the full article can be viewed here: https://www.nema.org/Storm-Disaster-Recovery/Replacing-and-Relocating-Equipment/Pages/Emergency-Preparedness-and-the-Importance-of-Equipment-Repositioning.aspx