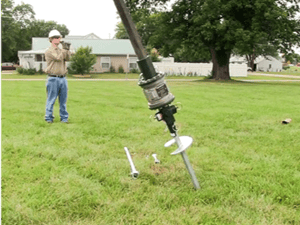 It is well-documented that the best method for predicting the capacity of helical piles and anchors is to measure the installation torque. Accurate torque measurements are crucial to calculate the load capacity or holding capacity.
How often should I have my CHANCE Wireless Torque Indicator calibrated?
Hubbell Power Systems (HPS) recommends the torque indicator calibration be verified once per year or after 5,000 cycles, whichever is reached first.
How do I know how many cycles my Torque Indicator has logged?
The indicator stores the Peak torque value measured since it was last turned on and the number of torque cycles accumulated since its last calibration. (A torque cycle is defined as an increase in torque reading to above 1000 ft-lb and a subsequent return to below 500 ft-lb.). Push and release the MODE button on the back of the indicator at any time when the device is on to view the Peak value and number of cycles.
How do I get my Torque Indicator calibrated?
Contact Bevins Company for calibration:
Office (918) 627-1273
Fax (918) 627-1294
9903 E. 54th Street, Tulsa, OK 74146
For complete instructions on how to use and care for your Wireless Torque Indicator, see the Operating Instructions. For a visual product overview, check out the video.