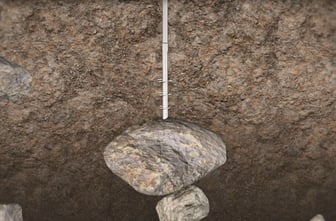 Obstructions can be difficult, because you often do not know they are there until you begin to install a deep foundation. Helical piles cannot install through obstructions; however, here we highlight the different options you have for dealing with obstructions while installing helical piles. One of the benefits of helical piles is that you do not have to abandon the pile. In most cases, it can be removed and reinstalled (unlike other deep foundation options).
Looking at the two most common types of obstructions
Large Obstructions
Boney or Cobble Rich Soils
Large Obstructions.
When large obstructions are encountered, helical piles have the advantage that they can be removed the same way they are installed, by un-screwing or rotating them counterclockwise out of the ground. The helical pile can be removed simply by reversing the rotation of the torque motor. Once the helical pile is removed, it can then be re-located along the alignment of the grade beam or battered at a slight angle to avoid the obstruction; working with the structural engineer to confirm locations. If the obstruction is very large, two helical piles can be installed on either side to bridge over top of the obstruction and the grade beam or pile cap can be redesigned to accommodate.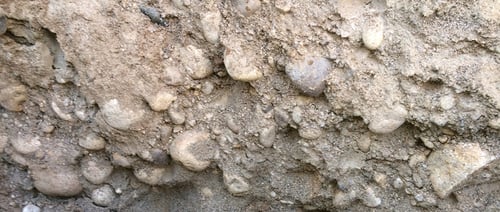 Boney or Cobble Rich Soils
When it comes to cobble rich soils, contractor experience is key. Over time, we have developed techniques and tooling that help successfully install helical piles in these conditions. Helical pile material selection is very important. CHANCE® Type SS Square Shaft helical piles have a huge advantage under these circumstances. The relatively small cross section of the square shaft means less soil is displaced during installation; which makes it easier to get through both hard soil and cobbles compared to a larger diameter round shaft pile. Hubbell Power Systems, Inc. also offers the ROCK-IT™ helical pile to improve installation in obstruction laden soils. The ROCK-IT features a carbide tip on the helical pile that works to bust through rock lenses, cemented sands and glacial tills.
An experienced installer and structural engineer can review your Geotechnical Report and help evaluate if helical piles are the best option for your deep foundation needs Find your local distributor to advise your next helical pile project.