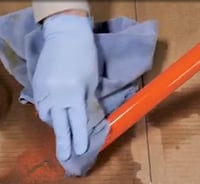 During this time of heightened concern for cleanliness, here are some guidelines for additional cleaning of your CHANCE tools, without compromising the integrity of the equipment. It is recommended that you continue to follow safe working practices, increased hygiene, and proper distancing as indicated by the Centers for Disease Control and Prevention (CDC), OSHA, federal, state and local health departments, and your company's work practices and procedures.

Enhanced Cleaning Instructions*
Fiberglass Hotsticks, Instruments, Meters, Rubber and Plastic Cover-Up, Rubber Blankets, and Cable Jacket:
Perform normal inspection and cleaning.
Wipe with 70% Isopropyl Alcohol (Isopropanol) – dampen a clean paper towel or cloth with isopropyl alcohol and wipe down all surfaces. Wipe the orange fiberglass pole first, followed by other surfaces.
Wipe hotsticks with Silicone Wipes or equivalent. Waxing or use of silicone cloth imparts a glossy finish to the surface of the insulated tool and improves the electrical integrity by providing a protective barrier against contaminants. (ASTM F3121/F3121M 5.4)
Rubber Gloves:
Wash gloves with a mild soap or mild detergent and water, then thoroughly rinse with water to remove all soap or detergent, then dry. Do not share gloves.
If using hand sanitizer, allow it to fully dry before putting on the gloves.
* It is not recommended to use other cleaning/disinfecting solutions, including wipes with other chemicals that have not been tested and proved safe for use on CHANCE tools, gloves and other equipment. There is a possibility of damaging surfaces and/or leaving residue that could lead to electrical tracking.

If you have any questions, please contact a Hubbell Power Systems Representative.