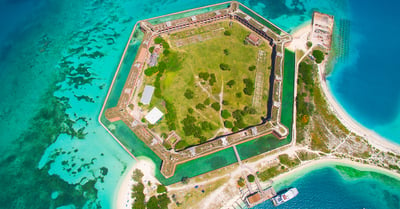 Dry Tortugas National Park is home to historic Fort Jefferson which was constructed for the protection of valuable shipping lanes in the Gulf of Mexico and along the eastern seaboard. The small remote island, only accessible by boat or seaplane, is located 70 miles west of Key West in the Gulf of Mexico and is surrounded by waters, beautiful coral reefs, and protected marine life.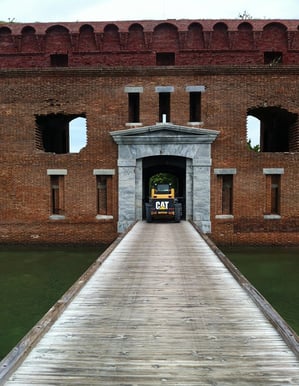 CHANCE® Certified Installer, Florida Foundation Systems, was chosen to install the foundation for the new construction of barracks for the National Park Rangers. The foundation would need to bear a load of 30 tons ultimate compression and 10 tons ultimate tension.
Two widely different solutions were suggested to construct deep foundations: a traditional auger rig and helical piles.
Though the site required a deep foundation solution, a traditional auger rig was not ideal due to its noise, vibration, weight, size, and mobilization difficulties. On the site was only a 7 foot-wide bridge with severe weight and width restrictions along with an entry portal with headroom restrictions. Helical piles, on the other hand, can carry out rapid installation with high loading capabilities using small equipment, unlike traditional auger rigs.
Although both solutions were efficient and cost-effective for the sandy soil conditions, high capacity helical piles were chosen for the job due to the numerous advantages they offered for the unique site.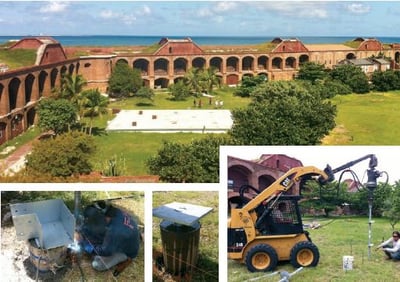 In addition to limited access, challenging soil conditions, and a high water table, helical piles helped minimize instances of soil removal and soil vibrations that might have affected the surrounding infrastructures which were constructed in the mid-1800s. Helical piles offer minimal soil disturbance which, combined with the small equipment footprint, helps protect the fragile ecosystem and natural resources of the Park.
Modern (and in this case, historic!) problems require modern solutions. Consult industry-leading experts with certified foundation solutions to meet your foundation construction challenges today! Find your local distributor.