Can you save money and energy while being sustainable? Ariel Magidson, founder and CEO of Ariel Arts Studio, says yes! She is on a mission to make sustainable design for everyone. Thousands of social media followers use her design hacks and tips every day. We partnered with Ariel recently on a TikTok collaboration featuring our Ryne ceiling fan.
"I hate to break it to you, but fans don't have to be ugly. They can be super functional, beautiful and sustainable," Ariel says. "I love how unique and modern this fan is while also being functional in all seasons because the reverse function is good for the wintertime."
Year- Round Ceiling Fan Use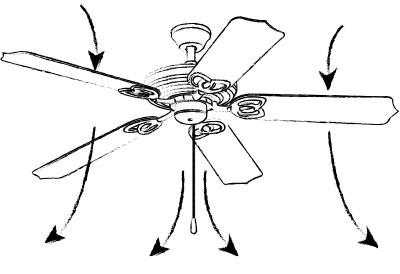 CLOCKWISE / REVERSE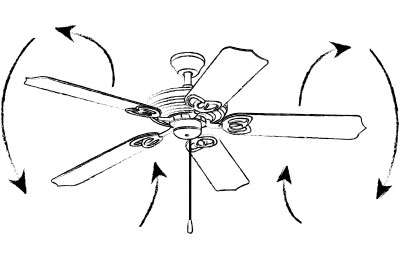 COUNTER-CLOCKWISE / FORWARD
It's true: you can use your ceiling fan year-round. Simply select a fan with reversible blades for the option to circulate cool air in summer or warm air in winter. Running fans in the colder months can save up to 10% on heating costs and is as simple as flipping a switch.
In the summer months, the slightly angled blades of a ceiling fan turn counterclockwise to move air down, making people feel cooler due to a concept known as the wind chill effect. During winter, the warm air generated by your heating system naturally rises to the ceiling while cooler air sinks. By switching the direction your fan blades turn, that cooler air is drawn upwards, which forces the warmer air near the ceiling back down into the space.
Ariel's Design Tips
Ariel chose the Ryne ceiling fan in Matte Black for her bedroom renovation project. The 52-inch Ryne fan is modern in appeal, with an aerodynamic design formed by beautifully flowing blades that join in the middle to create a minimalistic housing design.
"Because we were designing a dark room, which is good for promoting sleep, we wanted a dark fixture on the white ceiling. This combination makes the room feel taller, giving the impression of more space and calm, and is also great for sleep," Ariel explains.
How to Reverse Ceiling Fan Direction
But how do you reverse the blade direction? First, determine the current rotational direction of the blades. Fan blades should turn clockwise in the winter, pushing warmer air at the ceiling outward and downward into the room. In the summer, the blades should rotate counterclockwise.
To reverse the blades, begin by turning the ceiling fan off. Once the ceiling fan blades have stopped rotating completely, look at the ceiling fan's housing (the part that contains the motor. Find the switch that reverses the direction of the blades' rotation. Push or flip the switch to the opposite position, changing the direction. Next, turn the ceiling fan back on and proceed with using it in your home to circulate air.
Learn more about Ariel's approach to affordable, sustainable design here. And here's where to explore more ceiling fan design and selection tips for any space, indoor or out.