Cobra-Lock jacks, developed by Hubbell, deliver improvements in termination speed and reliability for Cat 6 and 6A installations.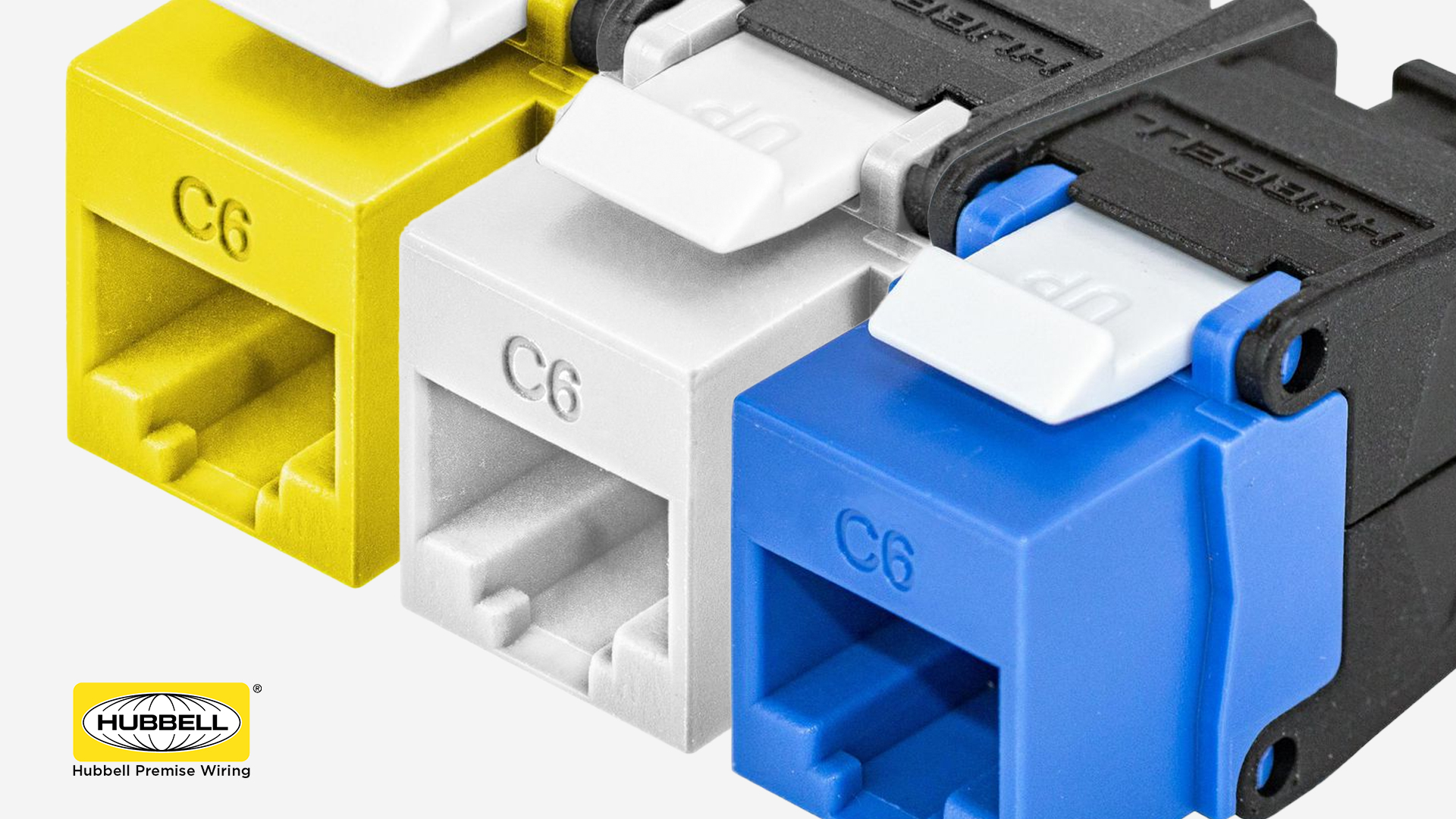 The Origin Story of Cobra-Lock
The introduction of high bandwidth Category 6A cabling systems has been beneficial for enterprise connectivity, making 10GBASE-T the norm for wireless access points, servers, AV distribution and other demanding data-hungry applications.
The 6A cables are thicker and unwieldy in comparison to the familiar Cat 5e and Cat 6 cables, and the existing, venerable punch-down termination, presents challenges to installers. In fact, there has been a marked increase in the stiffer, heavier cable, causing wires to loosen over time, creating downtime for customers and thus, contractors being called to re-do the termination.
After reviewing the concerns, Hubbell created a solution to the termination process, the Cobra-Lock™ termination method. The Cobra-Lock "jaws" keep the wires under constant compression for a superior, more permanent connection. In addition, this innovative jack design allows technicians to terminate eight conductors simultaneously opposed to one at a time for significantly faster terminations. The best part, it's done by hand—no special punch-down tools needed!
Installers were amazed; they could complete terminations in a fraction of the time, and the connection between the cable and the jack was so secure that call-backs were virtually nonexistent, regardless of the technician's skill level. Cobra-Lock 6A jacks made it easy for anyone to get expert, permanent and reliable results.
What about Cat 6?
Cat 6, still the dominant cabling category, always seemed to be easier to terminate, is now becoming slow and old fashioned. Installers on the jobsite conducting the Cat 6A terminations finish a job while the Cat 6 technicians continue preparing each wire and taking longer time to complete a job.
The bar has been raised, and contractors want Cobra-Lock for Cat 6.
Workers asked for it, and Hubbell delivered - Cobra-Lock for Category 6
Introducing the Cobra-Lock termination method now available for Cat 6 installations! With this new method, contractors receive fast, tool-less termination with the ability to terminate eight conductors simultaneously. This is done by a simple, manual squeeze of the jack and thus, providing a quicker, more repeatable termination process that reduces technician variability and the likelihood of human error.
How fast is it? Technicians tell our team they can reduce the time of each termination by 75% or more over incumbent methods. Putting our new solution to the test, our team quickly conducted a Cat 6 termination in one minute and 20 seconds. Imagine how fast your best technicians can do it!
As a result, typical jobs with thousands of Cat 6 and Cat 6A drops are completed faster and contractors can get more jobs in the same amount of time. Additionally, whether Cat 6 or Cat 6A, the possibility of call-backs hindering productivity is virtually eliminated with the Cobra-Lock "bite down."
The new Cobra-Lock Cat 6 also allows designers and contractors to standardize, eliminating the need of different procedures for Cat 6A or Cat 6 installations. For optimal consistency in design, on-site installation and ordering, all Cobra-Lock jacks are rated for plenum spaces and are compatible with Hubbell's extensive line of connection delivery products, including floor boxes, fire-rated poke throughs, ceiling enclosures, raceway systems and more. Train your employees on a single termination procedure and watch productivity soar and call-backs disappear.
Try it for yourself
Want to see the new Cobra-Lock Cat 6 jack—or the Cobra-Lock Cat 6A jack—in action? Talk to your local Hubbell account manager or distributor to receive samples and you too will be amazed.