Hubbell Premise Wiring's Industrial RE-BOX® product line provides specialized networking cabinetry to keep systems running at maximum uptime and productivity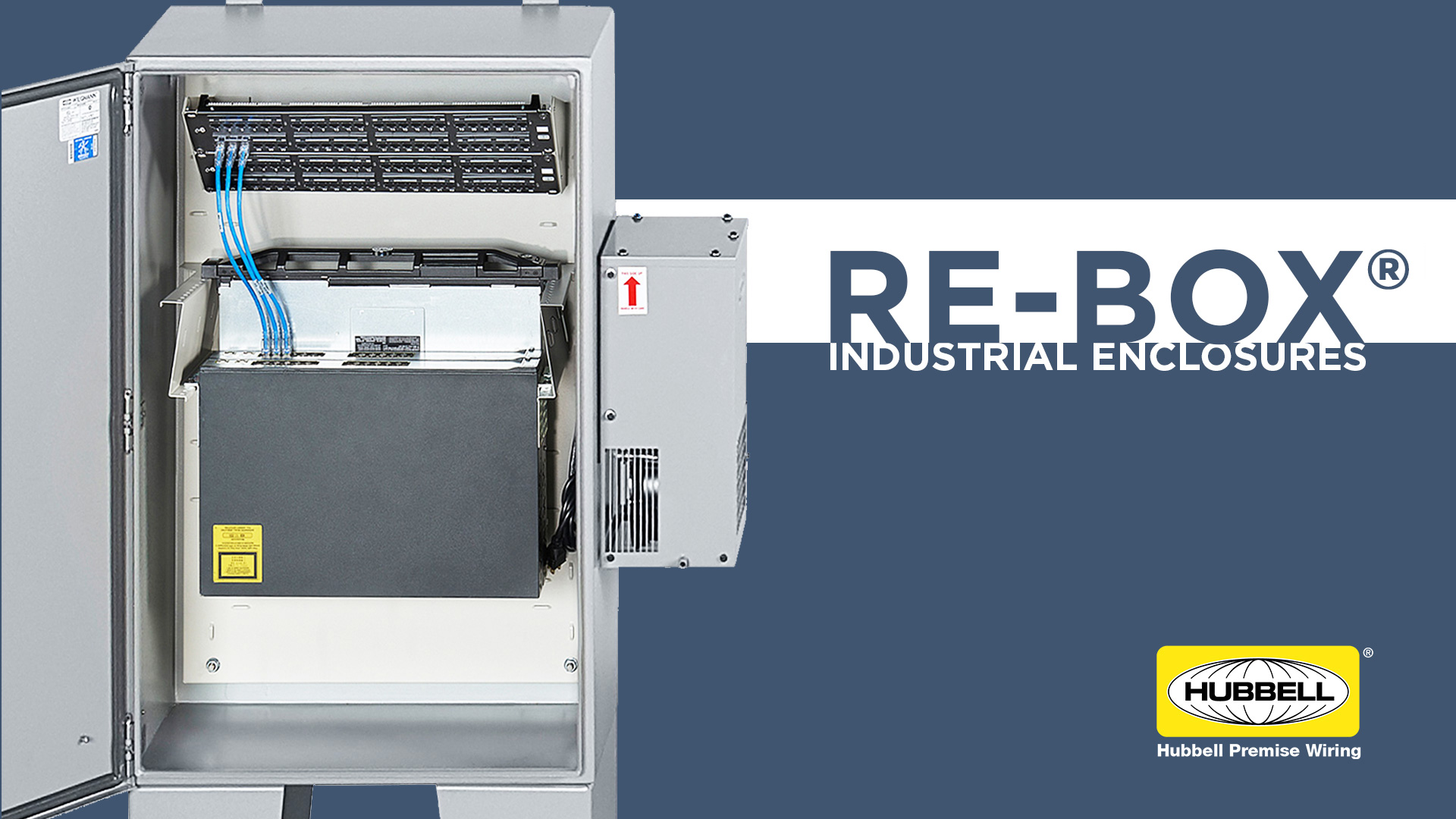 So you're making a major investment in security or operations communications infrastructure for an outdoor location like a park, campus, garage, rooftop or similar non-climate controlled location—or perhaps even an indoor location like a boiler room or production floor with similar temperature and environmental challenges. You need to make sure that your routers, servers, network switches, fiber optics, live power strips and other sensitive, active electronic components are protected from heat, cold, humidity, dust, rain, snow, dirt, wind, flying debris, animals, people and other threats so that your security cameras, access control systems, operational data and other crucial communications flow reliably, accurately and continually.
So, of course, you're going to specify a cabinet for them to be housed in for protection, keeping your investment cool, dry, secure and operating at peak performance.
But be aware, not all cabinets are created equal. Further, the installation, design and placement involved with setting up the equipment are not to be taken lightly either—especially if you have more than a handful of pieces of equipment within that need to work together. Vital, nitty-gritty type details such as organization of equipment for optimal operation and space efficiency; placement of brackets; size, type and placement of air conditioning unit; and ongoing equipment accessibility are sometimes not adequately considered—especially if one purchases a basic metal cabinet from a supply house unfamiliar with the everyday needs and intricacies of the specific application.
Having provided related electronic equipment to thousands of operations, Hubbell has built up an expertise in providing specialized cabinetry and related services to help customers maintain the integrity of outdoor and other vulnerable networks and keep systems running at maximum uptime and productivity. An example is Hubbell's Industrial RE-BOX® Enclosures line and related support. They're designed to provide a holistic solution, starting with a fully NEMA 412 rated cabinet.
Air conditioning is essential
In most cases, integrated climate control inside the cabinet is vital to keeping equipment from overheating and malfunctioning—it's important even in temperate months and climates, not to mention in the relentless heat of a hot summer days. Components run hot in tight metal boxes no matter what is going on outside and hot ambient temperatures can only exacerbate the issue. Hubbell offers a number of air conditioner options with specialized thermostats, and can help users find the best balance of size, cost and performance.
Industrial RE-BOX® Enclosures with rear access
Adequate accessibility is a challenge sometimes not realized until a couple of months down the road. For example, what happens when a part needs to be accessed, as it inevitably will? How reachable will it be? Will you need to disconnect and remove everything else to get to it?
In response to customer demand, Hubbell Industrial RE-BOX® now offers a revolutionary, smart-designed 3-Door enclosure that offers an unprecedented ease of accessibility to installed network equipment. The patented design allows the cabinet to be opened on three sides, and equipment is mounted on 18-inch deep rails with high industrial strength slides, so mounted equipment can be slid out of the cabinet for service, repair or replacement from multiple angles without tearing everything out, saving significant time and labor resources. Would this make a difference in your operation? For all but the smallest equipment footprint, it is certainly something to consider.
Full-on design services save time and money
As with nearly any other aspect of the industrial environment, planning ahead can solve myriad problems down the road. For that reason, Hubbell helps its customers plan and design the enclosure and all of its components as an integrated whole for optimum installability, optimum operability and optimum performance from day one and for the long term. Strategically placed cutouts, brackets, equipment arrangements, wiring connects and more ensure the most efficient layout—taking into account operational needs, energy efficiency, accessibility, optimal footprint and more. It's the best way to ensure that everything fits and everything works together seamlessly for the long term.
Comprehensive planning through a bundled solution can provide a significant level of surety for crucial outdoor applications—it can be vital, for example, to keeping security cameras rolling and maintaining safety on location. For more and more operators, the days of piecemeal, "catch as catch can" organization of outdoor enclosures are evolving. Should you be one of them?